2023 Apple Butter Festival
Apple Butter Festival Kimmswick is always the last full weekend of October.
This year, it is the weekend of October 28th and 29th, 2023 10 am to 5 pm both days!
The Apple Butter Festival Kimmswick is the largest celebration Kimmswick has annually drawing over 100,000 visitors. Come enjoy the small town ambiance, stroll through our streets lined with 500 – 600 food, drink and craft vendors. Also enjoy lots of live entertainment throughout the town including bluegrass, country rock, and dulcimer music.
The Kimmswick Historical society will gather on Friday to peel and prepare the apples. Early, before dawn, on each day of the festival, the wood burning fire is lighted, the kettle is filled with apples and cooking and stirring continues for seven to eight hours until the fragrant spread is thick enough to be sealed in jars.
The Apple Butter Festival Kimmswick starts at 10am each day and wraps up around 5pm. The town streets will be closed to vehicle traffic during these hours. Visitors may park at the Windsor School and catch a bus into town. The buses will run throughout the day shuttling visitors to-and-from the parking area at Windsor School. There will also be limited parking available off of Highway K and is just a short walking distance into town.
For the children, there is a miniature train, petting zoo and pony rides that will delight kids at any age. Visitors are welcome and encouraged to come visit, help stir and enjoy the ambiance at the pavilion. Apple butter is for sale each day or until the last jar is sold.
Click here for Vendor Application
SHUTTLE BUS ROUTES – Shuttle buses will run all day Saturday and Sunday between Windsor School Campus and town.
DROP OFF POINT: 5TH AND VINE
BUS RETURN PICK UP POINTS: 5TH AND VINE and FRONT AND MILL
Note: The festival ends at 5:00 pm on Saturday and 4:00 pm on Sunday and the buses will continue to run until all cars are gone from the parking lots
VISITOR PARKING – All fields along Highway K (weather permitting), Windsor School Campus (with bus shuttle service), Windsor Harbor Road, and the Anheuser Estate.
VENDOR PARKING – Only vendors renting space from the City of Kimmswick will park on the Anheuser Estate. Parking for private space rental should be handled with the person renting the space. The Visitor Center will offer some limited parking to vendors with cargo trailers. Contact visitor Center for further information and fees.
ATM MACHINES – Available at the Kimmswick Visitor Center, City Hall, in the park and along Market Street.
HANDICAPPED RESTROOMS – Some of the "Johnny-on-the-Spot" facilities will be handicapped accessible, however, for this weekend only, the restroom at the Visitor Center will be Handicapped only.
CHILDREN ACTIVITIES – Train rides, petting zoo, pony rides, inflatables, climbing wall, face painters
TOTAL BOOTHS – City, The Blue Owl and private space rentals, 500 – 600 booths (including food booths)
BUSINESS PARKING PASSES – Every vehicle in town MUST have a parking pass on their rear view mirror. Obtain the passes you will need for your business from City Hall the week before the festival. Their hours that week are Monday 10 am – 2 pm, Wednesday 10 am – 2 pm, Thursday 1 pm – 6 pm, Friday 8 am – 7 pm and Saturday 6 am – 6:30 pm. Police will close the streets to incoming cars at 8:30 am on Saturday so be sure you are in town by then if you want to drive to your business.
To find additional information:  Go to … www.GoKimmswick.com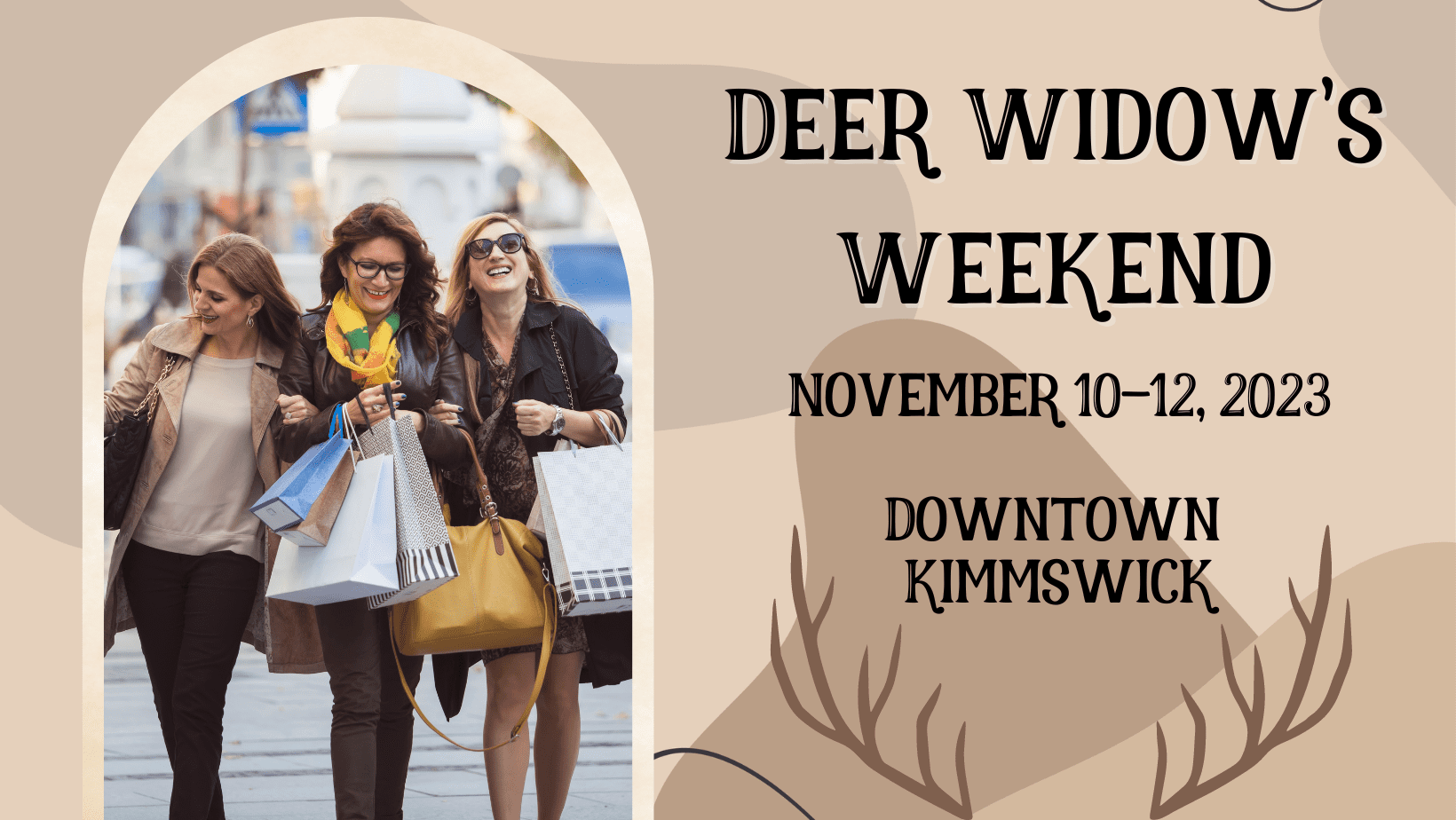 Get a head start on your holiday shopping and enjoy a day out with your girlfriends in Kimmswick.
Bag some bargains in Kimmswick for Deer Widows Weekend November 10th – 12th, 2023!
Make a canned good or monetary donation and receive a Shopping Passport.
Passports offer discounts from shops and restaurants! Canned goods collected will be given to local food banks, and monetary donations will go towards City of Kimmswick Relief Fund.
Please bring a canned good donation to the Visitor Center and receive a shopping passport, or make a cash donation at any participating merchant to receive a Deer Widows shopping passport offering discounts at all participating merchants.
For more information, contact Kimmswick Visitors Center at 636-464-6464.